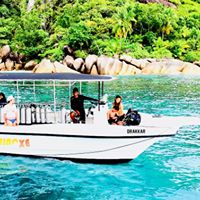 is an official  Blue Sentinel Member.
The most fascinating about Seychelles waters is not only its outstanding marine biodiversity but also the presence of a number of marine species internationally classified as threatened with extinction.
Admiring them in their wild universe alongside other beautiful species, even at at short distance from the shore, is nothing else than a privilege.
A breath giving one.
It is with this acute awarenessand the duty to share that we take you on board. Guide you responsibly through this unique discovery experience under banner as Blue Sentinels Charter for Sustainable Diving.